So I don't know what it is about this time of year specifically, (Uh,
winter
I guess?) but this seems to me to be the primo sick time of year for folks. Stomach virus has been running rampant where we live and this is definitely the time of year when we get the sickies, much more so than autumn. I don't have any intention of debating anyone (I do that enough with Andrew when he looks at the latest health supplement I've brought home and pronounced it sugar water.), but I do feel strongly that foods can heal and that there are many herbs and wonderful things in nature that can
complement
Western pharmaceutical medicines.
(
LEGAL DISCLAIMER
: yes, I feel compelled to say this – Anything you read here is
NOT INTENDED TO BE MEDICAL ADVICE
– I run every herbal or alternative supplement past Julia's pediatrician before giving it to her and get the doc's ok first –
always read your ingredient labels carefully
and check for allergies!)
HEALTHY COOL STUFF
this week:
Julia LOVES this
'Just For Kids Organic Cold Care' tea
– its got elder flower, chamomile and peppermint and after I add honey to it, she just drinks it in one fast gulp.
I make this
carrot-apple soup
recipe often. It's FANTASTIC.
Old Indian Syrup for Kids
is amazing for constant non-productive coughing.
Natural Remedies
for cold and flu.
Healthy
Banana Oatmeal Smoothie
!
Superfood Salad
with Lemon Vinaigrette.
I love and adore
Japanese Hot Springs Bath Salts
when I feel run down. They tint the water!
I want to start adding
Ginger Syrup
to everything.
And I use this
Ginger Drink
all the time – it will CLEAR YOUR NOSE.
Julia takes
these vitamins
-- and so do I!
Healthy, easy food ideas
for feeding your toddler. (I left a little recipe in the comments section!)
Hot Lemonade
is really super awesome for colds.
This is the best
Green Tea
.
Cool Book of the Week
:
'I'm Really Ever So Not Well'
by Lauren Child. You know we love our
'Charlie & Lola'
around here! Here, Lola doesn't quite get why her snuffle is making her beloved pink milk taste not so great. Her illness does not prevent her from demanding every second of Charlie's time and attention, however. This is one we own and it's one of our favorite C & L books!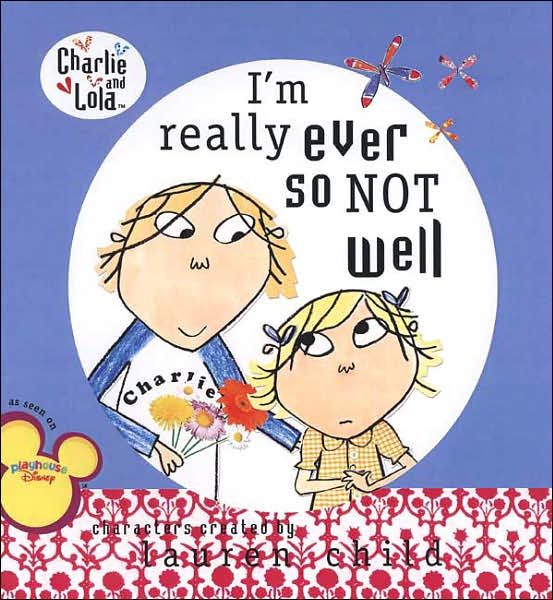 Have a lovely weekend! Stay healthy! Wish me luck in surviving Julia's BIRTHDAY PARTY! I'll share more about it next week.
~Melissa