Well, if you are feeling bereft and miserable now that
'Downton Abbey' Season 2
has hightailed it off of our television screens, here's a little wee consolation prize for you:
I recently watched the 4 part mini-series
'North & South'
(NO, NOT THE
ONE WITH PATRICK SWAYZE
– ALTHOUGH THAT TOO IS AWESOME. The '80's were so rad!!). It was great! This version is set in England and focuses on the cultural divide between the privileged rich in southern England/London and the privileged rich in an industrial cotton mill city further north. The barest nutshell of the plot is that it's a more realistic version of
'Pride & Prejudice'
, set in a factory town.
And guess who's in it:
It's Mr. Bates! I mean,
Brendan Coyle
! He's got a great part in
'North & South'
, playing a head honcho factory worker dude. He's sporting more hair in this show, both on his head and on his chest. I thought it was important that I share that information with you, so I did.
See? It's really him! I was STOKED. I didn't know he was in it before I watched it.
Ok so here is what's awesome about the show. The show plot itself is a bit of a downer, (No
Dowager Violet
jokies here) but friends, the chemistry between the two leads is CRAZY HOT. Which is my main beef with 'Downton' – the yawn factor between
Matthew and Mary
.
Matthew & Mary are so NOT HOT.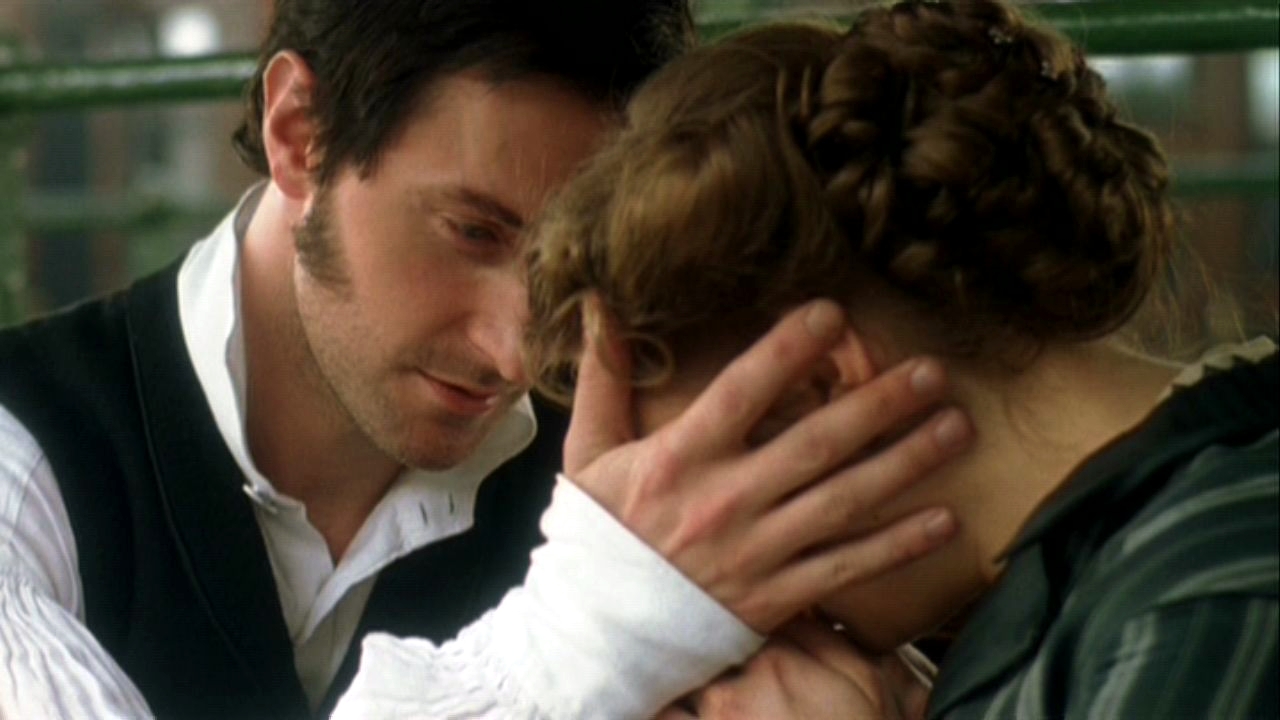 HOT.
Let me put it to you this way. The Kiss, which basically marks the end of any English period drama, in 'North & South' made my knees feel wobbly. FOR REAL. The Kiss, at the end of 'Downton' Season 2 made me giggle. And made me feel bored. This is bad. They need to fix this. I would rather watch Mary and
Sir Richard
fight it out. Why couldn't she have reformed him or something?
There's a
book by Elizabeth Gaskell
, which was written in 1854. I'm going to be reading it right after I finish up my current book.
So go check out
'North & South'
. And come back and tell me 1) How hot is
Richard Armitage
? and 2) How hot is Mr. Bates in his factory-working man-unbuttoned-halfway-down shirt?? (HOT.)
(Image credits: http://images2.fanpop.com/images/photos/4400000/Margaret-and-John-north-and-south-4435023-900-350.jpg)