We lost internet, phone and cable for 2 whole days this week! Andrew and I had to go to a Starbucks to get online. Oh my goodness, it was harrowing. And...peaceful. Technology is really a double edged sword isn't it? I really missed
Lainey Gossip
. Do you know about my love for this site? I love a lot of blogs. But I love Lainey Gossip sooooooo much. It's gossip with a side of intelligence. I adore her
book reviews.
(except she didn't love
'The Night Circus'
. ?????) Oh also speaking of blog love, my sis-in-law just turned me onto
this site
, and well, what rock have I been under? SO FUNNY!
COOL STUFF
I liked this week:
Sparklestories
. I'm so trying this out for Julia ~
Roasted Apple Scones with Ginger
.
DID YOU KNOW THAT THERE'S A
LAURA ASHLEY BLOG
?? Back in the day, no one loved Laura Ashley more than I did ~ NO ONE. Their site is really darling and has a
kid's section
!
And while over at the Laura Ashley site, check out
Jeska's cozy reading corner
.
The prettiest blocks
.
This issue of LMNOP
is all about books!
Love this
Halloween countdown calendar
. (I'm just gonna start talking Halloween now until it's Halloween. I just can't help it anymore.)
If I lived in Ireland, Julia and I would eat
this yogurt
ALL THE TIME.
What a
cool website
~ and take a look at their
fabulous maps
!
Flora's Forest
iPad app looks super darling and fun.
Cool Book of the Week
:
'At the Farmers' Market With Kids'
by Leslie Jonath & Ethel Brennan. Want to make some Chocolate Beet Cupcakes with your kids? Of course you do! I think that sounds really intriguing and good, actually. This cookbook has such fun and simple recipes that an older kid would be able to handle with some supervision, or for you and your kids to cook together. Simple and wholesome. I sound like an old fashioned cereal ad, but really, that's how I find the recipes in this book! Plus, most farmers' markets are open until the end of October and there is such wonderful produce to be had right now...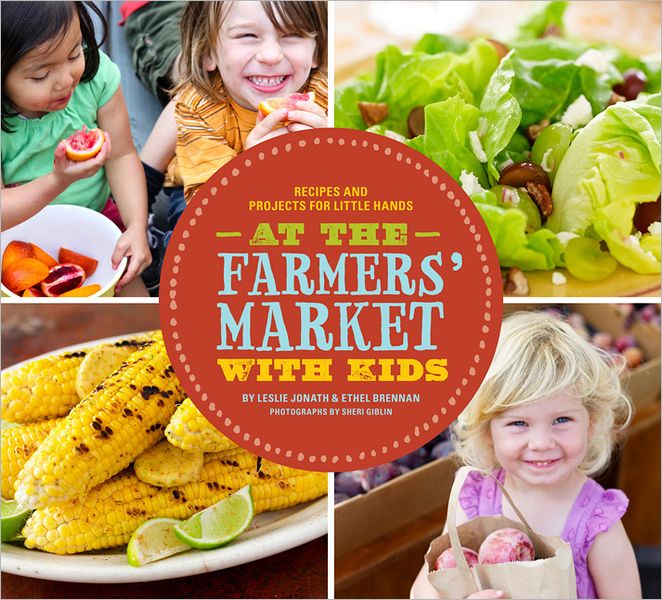 Have a lovely weekend!
I really want to start decorating the house for Halloween. I think instead I might try out my new doughnut pan...
~Melissa