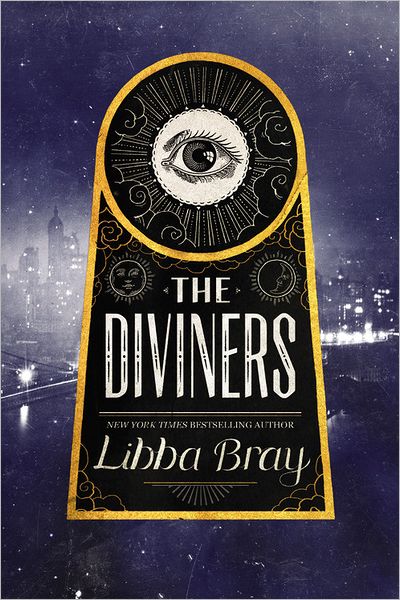 OH YEAH, the all caps key is a-comin' out today, my friends!! I AM SO EXCITED for the upcoming release (Sept. 18, 2012) of
'The Diviners'
, the newest book from
Libbra Bray
! Like, craaaaaaaaazy excited, jumping and squealing excited. Do you jump and squeal about books? For those of you new to my blog who don't really know me yet, rest assured that I really do jump and squeal and gasp with delight and CLAP MY HANDS about books. It's truer than true. It's ULTRA TRUE!
Ok why the excitement? Well, I loved Libba Bray's
Victorian-era series
. And I'm a big fan of all things magical and paranormal and otherworldly weird. I like that genre in my books and I like it in my TV viewing. Anyone excited about
'Vampire Diaries'
coming back? Elena, yo! How's that gonna unravel? Are we all on Team Damon? Please tell me we're all on Team Damon. (
Andrew ~ 'That show is stupid.')
Ignore him please.
So, um yeah,
'The Diviners'
: young people in the 1920's with magical powers who get involved in a battle versus evil and deal with some occult-based murders. It's
'The Great Gatsby'
paranormal style! AM I RIGHT IN THINKING THIS WILL BE THE COOLEST THING EVER???
(Andrew: you could just read Lovecraft – he was writing stories in the 1920's about the occult. That dude was there.)
Check out the cover, yo!! Way cool cover. Old school New York. The '20's. Secret societies. DID I MENTION HOW EXCITED I AM?? Must calm down, must calm down…
And take a gander at the trailer ~ I must tell you, I LOVE book trailers – I am strangely obsessed with previews of any kind – like, if I miss the previews when going to a movie, I don't even want to see the movie anymore – the movie-going experience has been ruined.
COOL RIGHT?? I'm totally going to read this in October and eat gingerbread and wear my jammies and HEAVEN HELP anyone who disturbs me while I'm doing this. Which means I'll have to do it at 11pm when everything else around here is all done and I won't get to read very much at a time, but that's ok because the book experience will last longer.