This was a sunset taken at a friend's lovely home, a couple months ago when it was still summer
(Until next year, summer!)
~ but it strikes me as very Halloween-appropriate. Of course, because I'm an agitated little bean, I've flown the coop far far away from Halloween town and have been planning and plotting about Christmas. This year I think the Christmas season for me will start, oh, maybe in a couple of weeks?? Which would be only slightly earlier than last year, when Julia and I began listening to holiday music on Nov. 4. My spookies,
I've been making lists.
Soon my lists will become garbled and cross-referenced and scratched out and scribbled and THEN where will I be?? Sitting under my desk, eating Christmas cookies.
COOL STUFF I LIKE
this week:
A
NEW NIGELLA COOKBOOK
!!!!!!!!!!!!
Cinderella stories from around the world
.
(I want to read them all)
I thought
this article on fitness
was fantastic and level headed. I'm trying re-commit myself to some kind of exercise regimen and I adored
Emma's take
on the matter.
Apple Pie Bread
.
Telling
stories without books
.
In addition to loving
this book about giants
, Julia ADORES this
CD of giant stories
.
Whole Wheat Maple Graham Cookies
.
Darling little
mummy Halloween craft
!
This right here
might give
Moonlight Tea
a run for its money....
This is a very
cool way to wrap gifts
. It's been all over
Pinterest
!
Cool Book of the Week
:
'Johnny Boo and the Happy Apples'
by James Kochalka. Have you read any
'Johnny Boo' books
? They are SO FUN!! This one we got from the library, but we own
'Johnny Boo, The Best Little Ghost in the World'.
You guys GOTTA get some Johnny Boo! He has a little pet named Squiggle; he's a mini-ghost. Squiggle has squiggle power and Johnny Boo has boo power.
Of course.
Their nemesis is the Ice-Cream Monster, who has a bad habit of swallowing them. Julia and I both adore the cheerful art and comic book style. It's been in heavy rotation ever since we got it last year. (And how cool would it be to have an artist for a parent?
James Kochalka
made
the bottom pic
for his child's school party!)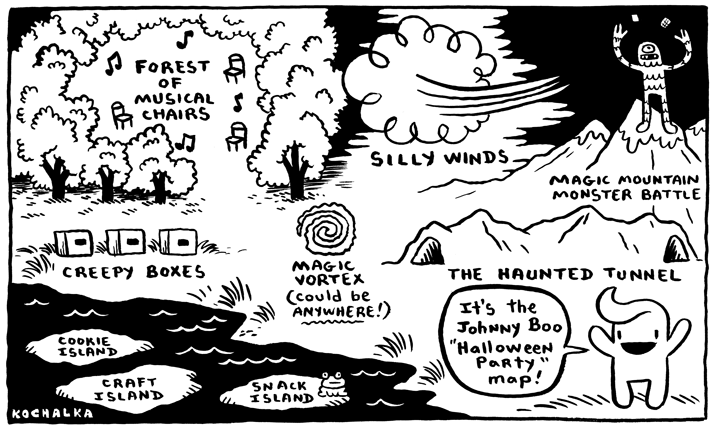 HAVE A LOVELY WEEKEND! Andrew is insisting on scary-movie-ing it up. I think I'll need to watch with a blanky over my head. Also, I'm being sent on a hunt for fangs because Julia has decided that she's now going as
Merida
-slash-vampire girl from
Hotel Transylvania
....
~Melissa