Julia and I were just talking about how from this time of year on, there's basically a holiday (if you consider birthdays to be holidays, WHICH I DO) every month until Easter! Halloween, T-Day, Christmas, mah birthday, Valentine's Day, J's birthday, and then Easter because it's in March next year. Exciting no? I tell you what's exciting...
the first frost
! Happened just this past week and we've had to add an extra blanket to the bed and I'm thinking that it's flannel time soon. I don't want to leap into the flannels too soon though because once I do they'll be on the beds until June, and that thought will depress me, that we live in a climate wherein one needs to have flannels on the bed until June. Andrew, who is Mr. Positive, would say, 'Oh that just means you get to be cozy until June.' I would say (I am not Mr. Positive), 'no that means my fingers will be cold for the next 8 months.' Now I have made myself sad.
Let's be happy! And look at Halloweeny
COOL STUFF
:
This ghost costume
is just too fabulous.
Doesn't this
Halloween craft book
look super cute?
Kitty Loves Pie
.
Welcome to Fall Cake
(this is easier than easy. love the sprinkles!)
Just found
Lark
, an online source of everything fun, especially for kids.
Sleepy Hollow Pumpkin Pie
.
Children's books about
bullying and empathy
.
Orange Ginger Toddy
!
You must
watch the video in this post
. Come back and tell me, did that not change your life, just a bit? It did mine.
Cool Book of the Week
:
'Disney's Scary Storybook Collection'
. Man, I love this book and oh! So does my kid! Found this at a used bookstore and had it tucked under my arm in a heartbeat. Really fun, TONS of stories, and not scary, except for the spook factor inherent in
'The Nightmare Before Christmas'
and
'The Headless Horseman'
tales that are included (use your judgment as to whether your kiddos can handle those stories).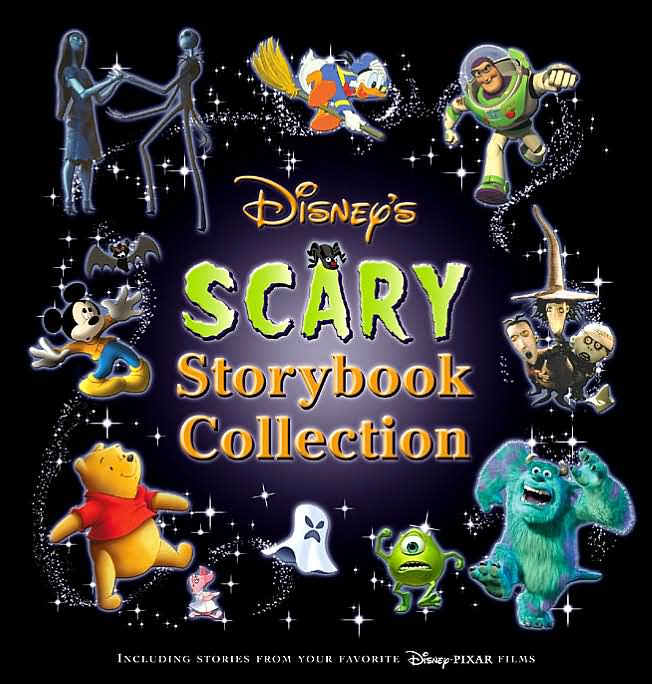 All the rest are sweet, fun stories about
Donald Duck
,
Winnie the Pooh
,
Alladin
,
Toy Story characters
,
Mickey
,
Beauty and the Beast
,
Tarzan
and
Monster's Inc
. Pictures on every page and I'm so happy I found this! Totally, totally cute. My favorite is the Donald Duck story that involves him annoying
Madam Mim
. (remember her from
'The Sword in the Stone'
?)
Have a lovely weekend ~
There's a small farm in a nearby town that makes the most awesome fresh apple cider, we're going to go get us some!
~Melissa